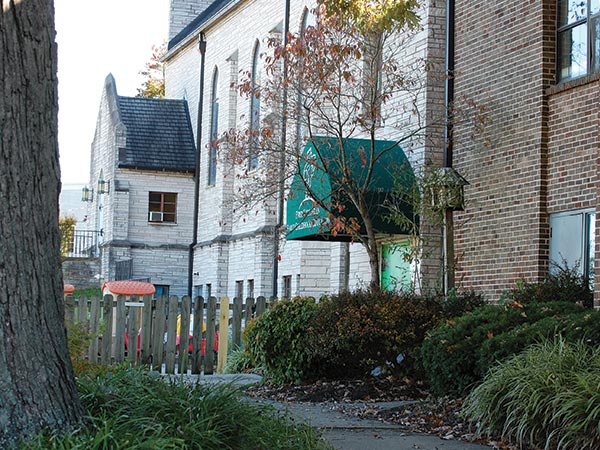 WHAT IS A LUTHERAN ANYWAY?
Good question! We're glad you asked. Although the The Lutheran Church—Missouri Synod has 2.4 million members in the U.S., you just don't see a lot of Lutherans in Knoxville. Up north, there's a Lutheran church and school on every corner, but here, that's not the case. Let's explore what "Lutheran" means.
Lutherans are Christians. Above all, the Christian Lutheran faith desires to be faithfully centered in Jesus Christ and strives to let the Gospel of His life, teachings, death, and resurrection from the dead be the center of all we profess and do. The name "Lutheran" indicates a confession within the one holy, Christian church, rather than a denomination. However, the name Lutheran is also used in the title of many denominations across the globe (e.g. The Lutheran Church—Missouri Synod).
First Lutheran Church is a member of the The Lutheran Church—Missouri Synod, a Synod formed by Saxon Germans who immigrated to the United States in the mid 1800s and founded our Synod in AD 1847. First Lutheran Church was organized in 1869, and First Lutheran School was founded a year later, in 1870. Read more about our school's history.
---
LEARN MORE ABOUT US:
OUR MISSION:
Believing all children are created and loved by God, First Lutheran School, together with family and church, provides a quality academic structure to educate children's spirits, minds and bodies in a Christ-centered environment, preparing them as responsible citizens for Christian service and eternal life.
First Lutheran School is a ministry of First Lutheran Church. If you don't have a church home, we invite you to come visit and find out more about the Lutheran faith.
OUR PHILOSOPHY:
Academics have always been at the top of our educational priorities at First Lutheran School. Though we follow Tennessee's Guidelines for Education and Core Knowledge, we take your child well beyond state standards. Our track record consistently has demonstrated success in doing so.
But it is our conviction is that no education is complete without the teachings of Jesus Christ. We see His teaching as the "crown jewel" of an outstanding education. Learning of Jesus' wisdom and love will make your child well prepared for the world, feel safer and more secure no matter what adversities may come. The earlier children learn of His truth and mercy, the more confident they are as they grow in academics, athletics, and the arts—even into high school, college, and beyond.
OUR HISTORY:
True to the historic principle of Lutheranism that there can be no real education without religion, First Lutheran School opened its doors in 1870, less than a year after the congregation was formed. The first school was a one-room schoolhouse with grades 1-8 in a single classroom. FLS then expanded to double classes in a room until the 1970s, when expansion continued until all grades Kindergarten through 8th grade were in single classrooms. The Early Childhood Education center (preschool) was founded in 1971. In 1978, we completed a major renovation with the addition of another school wing to house more classrooms and a gymnasium.
Today, First Lutheran School teaches children ages 1 through 8th grade. We have a before- and after-school care program during the school year and a day camp during the summer. FLS is one of more than 2,000 Lutheran elementary schools in the United States and Canada who have called more than 12,000 teachers to educate well over 200,000 children. Our national organization of churches (The Lutheran Church—Missouri Synod) operates the largest Protestant parochial school system in the U.S., and also maintains one of the largest systems of universities and seminaries in the United States and abroad.
Lutheran churches have a long history of supporting Christian education. Bringing children up in a good relationship with the one, true, holy, gracious and compassionate God revealed in our Lord Jesus Christ is a first priority. Lutheran schools strive to develop a foundation for children built upon God in Christ and His Word. They also excel at teaching English, math, science, physical education, and extra-curricular activities in order to prepare children to thrive in and contribute to today's world—all to the praise and honor of God.
OUR OBJECTIVE:
- To equip our students both spiritually and academically
- To nurture them in Christian love as they grow in knowledge, attitudes, and skills
- To enable our students to reach their full potential as Christian individuals and responsible citizens.

SUPPORTING FIRST LUTHERAN:
[Supporting FLS Image]Fundraisers
First Lutheran School 's PTL runs several fundraiser through the year, including the German Fest and Spring Auction. Visit the PTL page for more information.
Charitable Gifts
We are always grateful for individual donations throughout the year. We have continuing needs in the areas of scholarships and technology, as well as athletics programs, uniforms, library book donations, and music programs. Please contact our school office for the latest needs.
Annual Fund
If you would like to leave a legacy to FLS through planned charitable giving, your financial advisor can help tailor a plan for you.
FIRST LUTHERAN ACADEMICS:
EARLY CHILDHOOD EDUCATION100%

GRADE SCHOOL100%

MIDDLE SCHOOL100%

BEFORE/AFTER SCHOOL100%