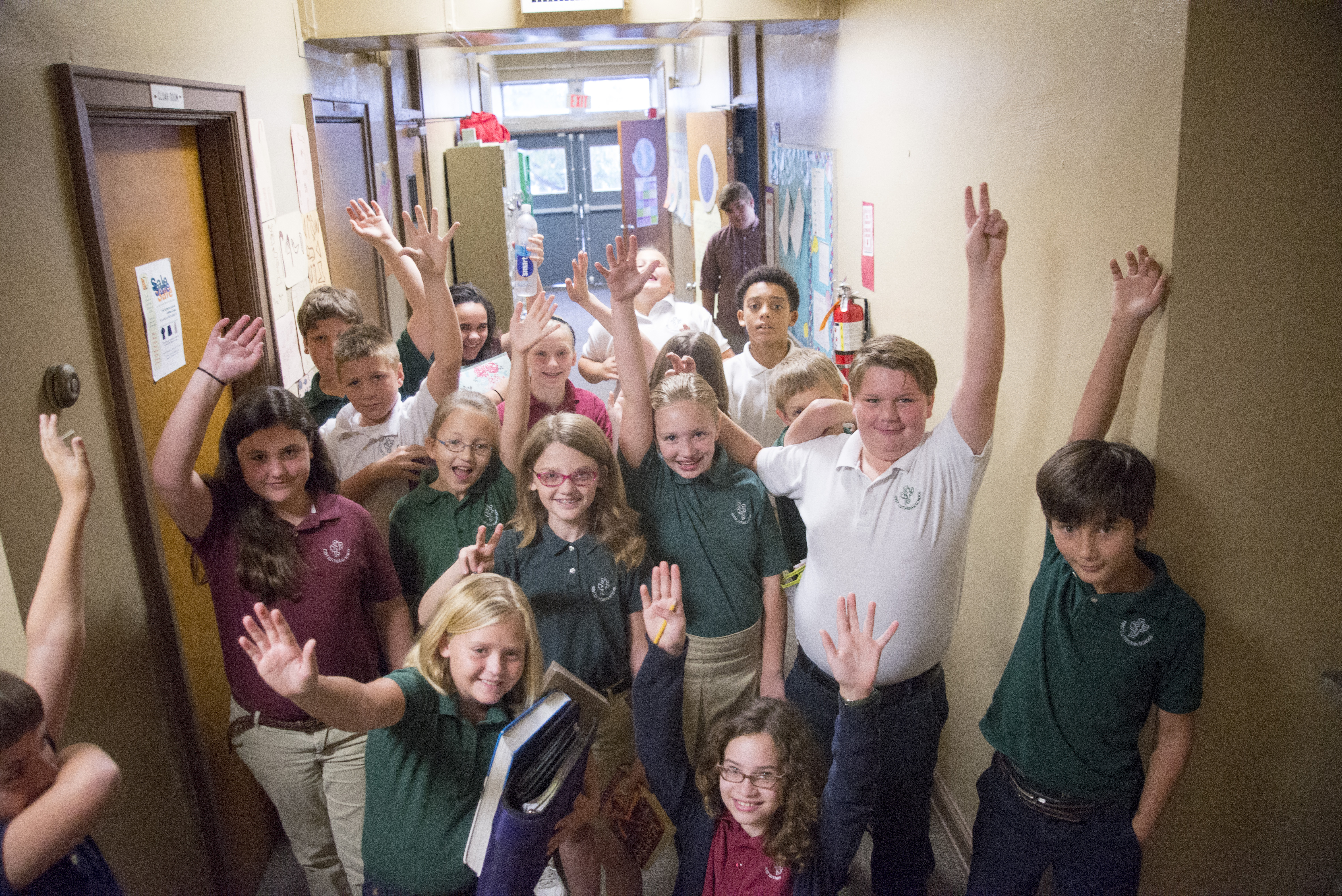 MIDDLE SCHOOL PROGRAM DETAILS:
ABOUT MIDDLE SCHOOL:
Middle school (grades 6-8) at First Lutheran is a stepping stone to high school. Students have a homeroom teacher, plus specialty teachers. They move from class to class and take more responsibility for their work. Yet our middle school teachers make themselves much more accessible than high school teachers, helping students keep up with their books, assignments, and test dates. Please visit our Faculty and Staff page for the subject specialties of our middle school teachers.
MIDDLE SCHOOL CLASSES:
Religion: Seventh and Eighth grade confirmation includes a foundational study of why Lutherans believe what we do. We do not try to convert children, but simply give them the basics of the Lutheran faith.
Math: Eighth-graders take either Algebra or Pre-algebra as appropriate. Algebra I classes take the Gateway test to pass the requirement of high school Algebra, with the option of moving on to more advanced classes as a freshman. To date, 100 percent of our students taking Algebra I have passed the Gateway. Pre-algebra students are prepared for success in high school Algebra.
English: A framework of formal papers are taught and written.
Literature: Building off the lower grades' emphasis on reading, the middle school studies the intricacy and creativity in literature, exploring literature as a means to express ideas in a constructive way.
History: Subjects range from Greece to religions of the world to romanticism, industrialization, immigration, capitalism, socialism, urbanization, and enlightenment.
Science: Science in the upper grades is experimentally-based with hands-on lessons or demonstrations. Sixth graders take General Physics; Seventh graders take Chemistry/Biology, and Eighth graders take Advanced Physics.
History: Students study the U.S. in World War I and World War II, Tennessee history, and the U.S. Constitution.
Enrichment: Many FLS graduates are able to move quickly through high school Spanish after they've taken classes throughout grade school.
Valedictorian and Salutatorian of the Eighth Grade Graduating Class
Cumulative GPA of students over all grading periods from their 6th grade year through the first three grading periods of the eighth grade year will determine class rank. The student with the highest GPA will be valedictorian and the student with the second-highest GPA will be salutatorian.